Powered Roller Conveyors Help Injection Molding Operation Boost Uptime and ROI
In the competitive and ever-changing materials science industry, manufacturing operations must be nimble to respond to customer needs. Production systems should provide high throughput with minimal use of space, and you need to be able to get your systems up and running quickly. These were some of the challenges of an injection molding operation recently experienced.
A maker of consumer dispensing, packaging and drug delivery devices needed to build conveyor systems for a continuous bulk injection molding operation. The manufacturer needed to meet aggressive production and ROI targets, so the conveyor system had to deliver maximum uptime, reduce labor costs and occupy a smaller footprint at the facility. With plans for dozens of systems, the company sought a combination of high performance and efficiency.
Instead of installing traditional conveyor systems, the company turned to Robotunits for a modular, plug-and-play solution. Our specialists worked closely with the manufacturer's engineers to design a system based on our Powered Roller Conveyors. These 24-V conveyors are well-suited for zero-pressure accumulation applications, and each unit comes with a pre-installed and covered control unit so each zone can be controlled separately.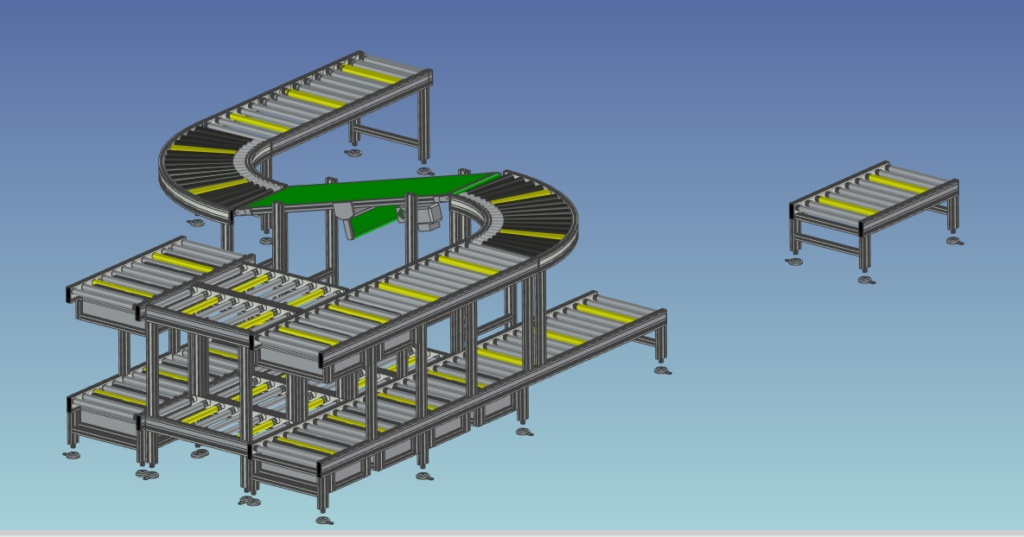 The system includes both straight and curved Powered Roller Conveyors, our Lift Stations and our Extrusion 80 x 80 framing. Here's how it works: The Powered Roller Conveyors deliver the bulk product to a Lift Station, which deposits the product into a waiting box. Because our devices are modular and customizable, the discharge zone has built-in third-party load cells to verify that each box is full.
A three-zone buffer collects the boxes for removal by an autonomous guided vehicle (AGV). The customer's AGV was outfitted with a robot unit dual-zone top module to provide safe, precise positioning for collecting or transferring goods. When the robot docks with the machine module, it discharges two boxes to the top level and retrieves two empty boxes on the bottom level.
Quick and Easy Deployment
Thanks to our lean manufacturing capabilities, we delivered our products with fast lead times. And, our plug-and-play modular products made system assembly quick and easy, so each system was deployed in three to four weeks instead of months.
Currently, nearly 50 of these Robotunits Powered Roller Conveyor-based systems have been built in the injection molding plant. They operate 24 hours a day, five days a week, with a smaller staff.
The customer reports higher machine uptime versus last year, and they're hitting their ROI targets. This successful injection molding plant application is a good example of how our Powered Roller Conveyors combine modularity, plug-and-play setup and easy customization to give material handling operations the flexibility and productivity they need in today's manufacturing environments.
Additional features of the Powered Roller Conveyors include:
Power transmission via Poly-V belt

Compatibility with our entire Modular Automation System

Custom sizes
Speed from 2.6 to 58 meters per minute
Drive option and position flexibility
Integrated Finger Guard