35 years of experience in special mechanical engineering
Robotunits develops, manufactures and supplies quick-to-implement, flexible and high quality conveyors, linear motion units and safety fence systems as well as extrusion technology for the material handling and assembly industries. All this is achieved with just one standardized Modular Automation System – true to the manufacturers' motto "ingeniously simple".
Robotunits operates worldwide and has manufacturing operations in the USA and Austria and has additional locations in Germany, Italy and Australia.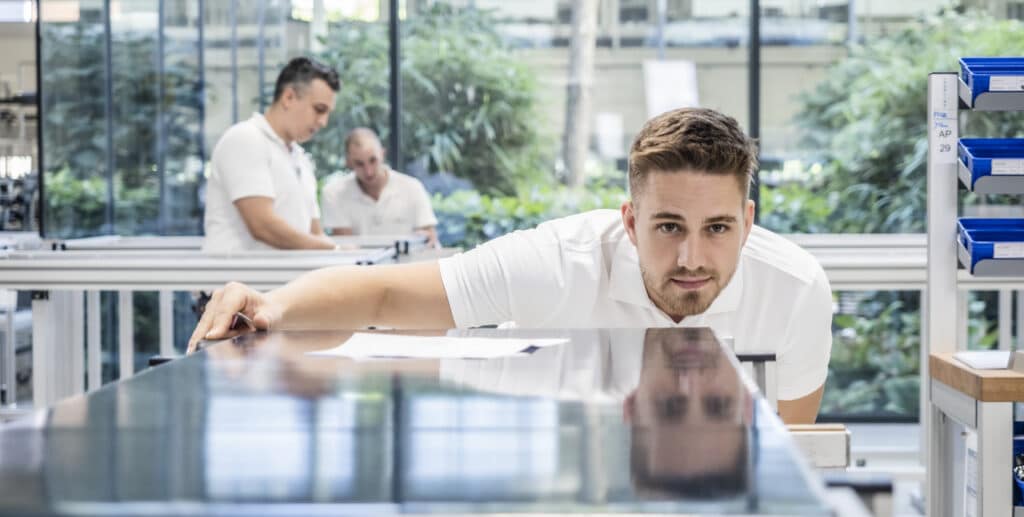 Growth and innovation for over 35 years
2022

The strong growth of the company again requires an expansion of the company site. Thus, exhibition and assembly areas, offices, a restaurant, a fitness room and a new innovation laboratory are being built on an area of 14,400 square meters.

2019

Material supply MBS Pickstar. With just a few multifunctional components, versatile applications can be realized - from Kanban racks to visual storage to individual workstation equipment.

2018

Christian Beer is awarded Entrepreneur of the Year due to the high innovative strength and continuous further development of the Heron Innovations Factory.

2016

Expansion of the hall and construction of two additional office wings, relocation of the children's group "Dandelion and Silk Paw" to the "House by the Lake".

2008

Official opening of the new Heron Innovations Factory. Winning of the Vorarlberg Health Award.

2007

New construction of the company headquarters in Dornbirn. On 6000 square meters of floor space, the subsidiaries Servus, Robotunits and Heron CNC-Technik are provided with optimal conditions in the intelligent factory. The Heron building is occupied in September 2007.

2005

Foundation of Robotunits Italia S.r.l. - Italy

2004

Foundation of Robotunits Pty Ltd - Australia.

2002

Award as the most women- and family-friendly company in Austria.

2001

Foundation of Robotunits INC. - USA

2000

Lean as a working principle. Heron is the first company in Central Europe to introduce the Lean principle as a working method to increase the value chain. This includes the use of Kanban racks, working according to the 5S method and the early introduction of a web shop.

1999

Foundation of Heron CNC-Technik. This company subsidiary deals with contract manufacturing of milled and turned parts in the form of prototypes and serial parts made of metal and plastic on state-of-the-art 5-axis machining centers.

1997

Foundation of our in-house childcare center "Löwenzahn & Seidenpfote", the first of its kind in Vorarlberg.

1994

Innovation award for the worldwide unique backlash-free and form-fit connection technology.

1994

First use of line scan cameras. Heron Sondermaschinenbau implements line scan cameras for the first time in a system for the Bauwerk company to inspect parquet production. At the same time, asynchronous linear axes are installed for the first time, which interlock and pass on the production material fully automatically.

1994

Birth of Robotunits. The designers develop a completely new, application-friendly automation kit.

1987

Christian Beer founds Heron Sondermaschinenbau for fully automated assembly lines.
Heron Innovations Factory
Heron Innovations Factory is an owner-managed, globally active family business based in the heart of Europe, more precisely in the city of Dornbirn, which is situated in the Austrian part of the border triangle at Lake Constance. Heron Innovations Factory has its origins in the development and construction of customized assembly machines. Over the years, four independently operating subsidiaries have developed:
The Heron Group currently includes