Powered Roller Conveyors Create Flexible, Modern Transport Systems
In today's industrial manufacturing and material handling operations, setups and changeovers must be quick and easy. Fast turnover and aggressive production demands mean that tearing down a transport system and assembling a new one each time manufacturing processes change is not an option. A truly modern operation requires transport systems that are easy to set up, modify or switch over. For conveyor systems, the individual components and production zones must have modularity and flexibility in mind with ready-to-use controllers.
That's the concept behind Robotunits' Powered Roller Conveyor components. Providing precise and efficient transport of containers, totes and boxes, our Powered Roller Conveyor product range consists of straight and curved Powered Rollers, Lift Stations, a 90-degree Transfer Unit and a Turntable. These modular, 24-V Powered Roller Conveyor components — with 1.9-inch industry standard diameter rollers — allow plant managers and control engineers to quickly configure and build a complete system to modernize operations. Here's how: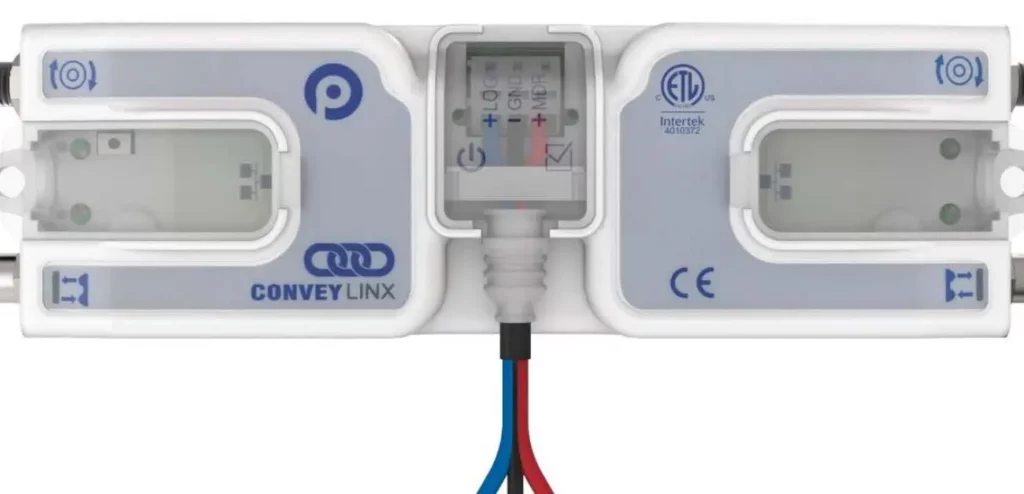 Powered rollers have built-in zero-pressure accumulation (ZPA) logic, so there's less coding and logic required
Each zone is controlled separately with no need for a higher-level controller. The zones can be customized to accommodate user preferences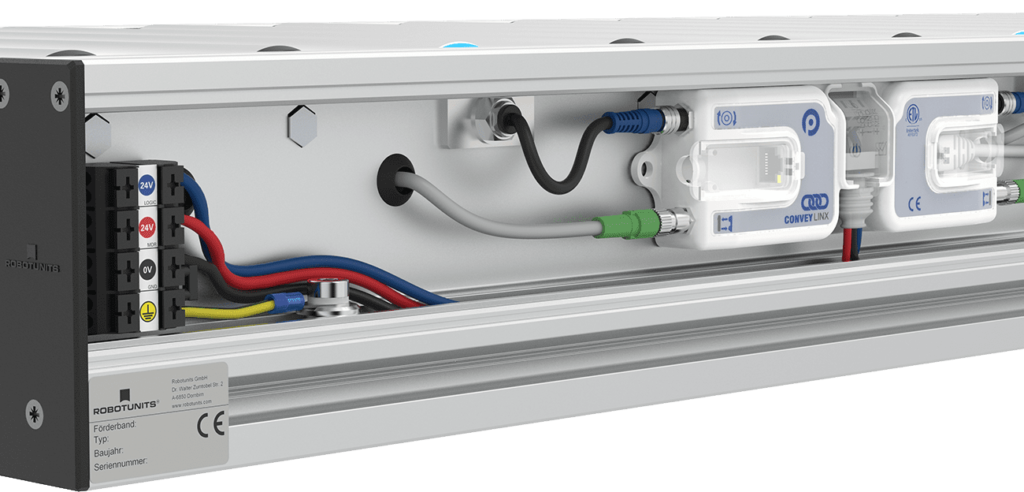 The control unit and wires are inside each zone's extrusion profile, enabling plug-and-play operation. The extrusions also eliminate the need for control cabinets while creating a clean, modern aesthetic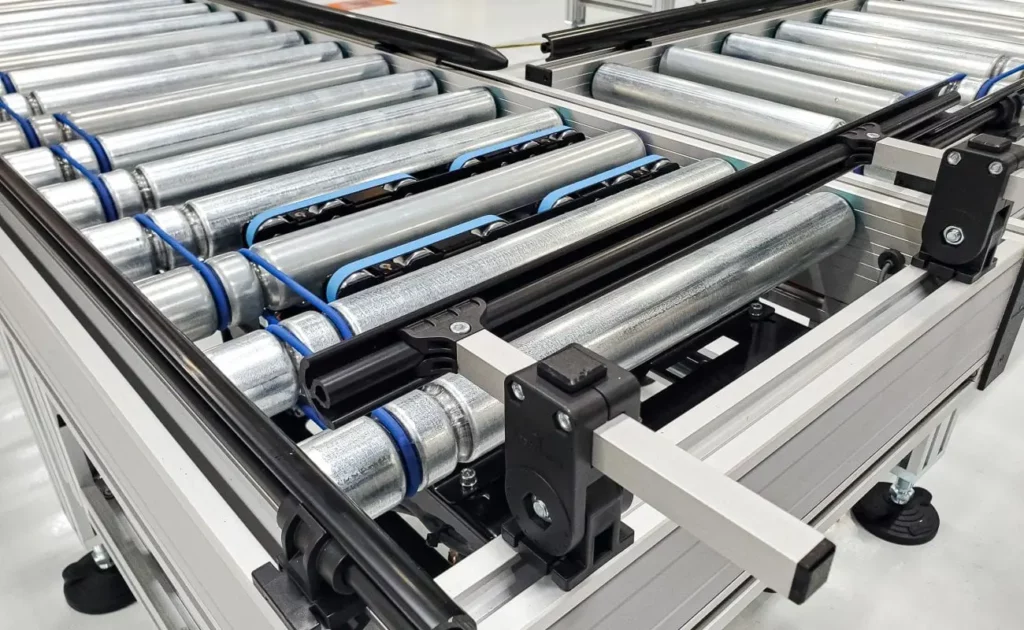 Standard, modular hardware allows simple modification, drop-in parts replacement and reduces the amount of spare parts to keep on hand
Powered Roller Conveyor components and accessories integrate seamlessly into Robotunits' Modular Automation System and easily connect our Linear Motion System, material handling components, safety fencing and machine frames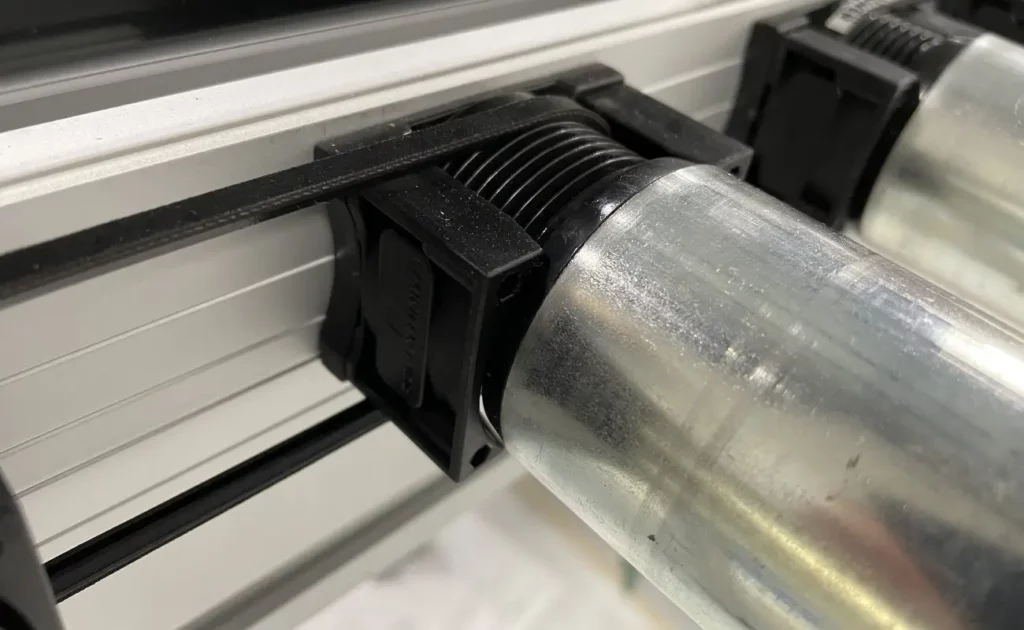 To enhance operator safety, Powered Roller Conveyors feature our patented Finger Guard technology. Finger Guards are built into each Poly-V roller. This safety feature is unique to the industry, and no other protective guards are necessary.
Next-Level Conveying Technology
The Lift Station is a perfect example of a versatile conveyor component that's well-suited for the factory of tomorrow. Designed to transport products on two levels of a production area, the Lift Station integrates seamlessly with our conveyor components as part of a complete, easily interchangeable transport system. Users can also choose the drive option that best suits the application, and they can adjust motor positions without limit. We can create custom sizes and configurations for hard-to-satisfy requirements. Features and specs include:
Standard stroke up to 5 meters.
Speeds up to 1 meter/second; acceleration up to 3 meter/second

2
A self-adjusting safety guard and timing belt guard. 
Lift Station is also easy to operate. Thanks to the Powered Roller Conveyor's control card and software, users enter instructions using a simple reference code that can be adjusted for tasks such as turning the lift motor on or off
Smart, Simple Changeovers To Save You Time
Taken together, the Powered Roller Conveyor system's modularity, versatility and uniformity make conveyor system setup and changeovers quick and easy. And, you can build a fully integrated Robotunits Powered Roller Conveyor system quicker and easier than the setup time involved with more complex conveyors. By replacing complex, unwieldy or outmoded systems with a sleek, and efficient system that will evolve with your needs, you'll not only make transitions faster, you'll make them smarter.
For more information about Robotunits' Powered Roller Conveyor, including the Lift Station, visit our product page.