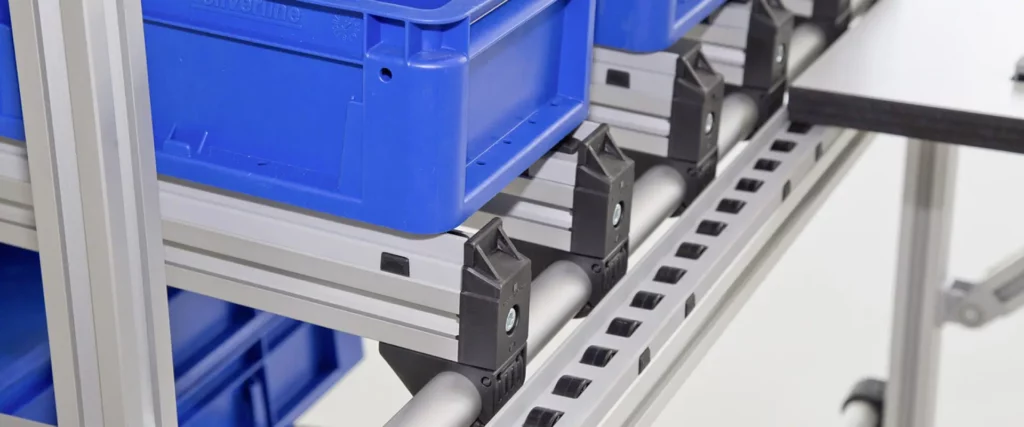 MBS PickStar Material Handling Systems Let You Do More With Fewer Components
In today's material handling environments, competitiveness often comes down to the flexibility of systems and processes. Traditional conveyor systems may last a long time, but their bulky, complex designs lack the agility to adapt to changes in material flow and supply needs. Modern material handling operations require nimble and flexible modular conveyor systems that can handle multiple functions and move objects at high speeds to meet aggressive throughput goals.
One such system delivers these capabilities, giving plant managers a modern and efficient way to move objects and adapt to changing production needs. Robotunits' MBS PickStar Material Handling System is designed with multifunctionality and high speed in mind. It consists of eight components — with either rolling or sliding elements — that can integrate into existing conveyor systems or combine with other PickStar components to create a flexible, future-proof material handling system.
MBS PickStar components take advantage of Robotunits' patented Extrusion and Fastening Technology and common 14-millimeter T-slots to allow users to make track adjustments and add additional components with ease whenever requirements change. They're also compatible with Robotunits' Modular Automation System components. Taken together, designers have the flexibility to create or modify an MBS PickStar system to suit most any application or material handling objective.
Here's how MBS PickStar allows users to adapt to changing needs:
Adjustable lane lengths and widths – No tools are necessary to change lane width

Adjustable incline angles – Tracks attach easily to achieve infinitely adjustable angles, and brakes can be inserted anywhere

Tracks can be added with ease – Additional tracks can fit any Robotunits extrusion, and open T-slots can be used to install additional components
Not only do PickStar components offer more flexibility than traditional material handling systems, they also save time and money. Their modularity significantly reduces design and assembly time, while uniform extrusions and snap-in connections make assembly quick and easy. And with only eight multifunctional parts in the system, plant operators can reduce inventory costs and stock fewer spare parts. Durable construction and track covers help ensure a long lifetime for even greater return on investment. Additional features include quiet operation and minimal training requirements.
MBS PickStar components are available in a rolling version for loads up to 66 pounds (30 kilograms), suitable for use in kanban or just-in-time material handling systems or as reject conveyors. Robotunits also offers sliding PickStar components for lighter loads and manual workstations. Both versions offer modularity and versatility, allowing modern material handling operations to maximize productivity with less components, effort and resources.
For more information, visit our product page.