Custom-made AGV Top Modules With A Maximum of Possibilities
Driverless Transport Systems, often referred to as Automated Guided Vehicles (AGV) open new possibilities to workflow organization. Why? Due to its automated and flexible transport capabilities, it increases efficiency. This is where the Robotunits Automation System plays a central role.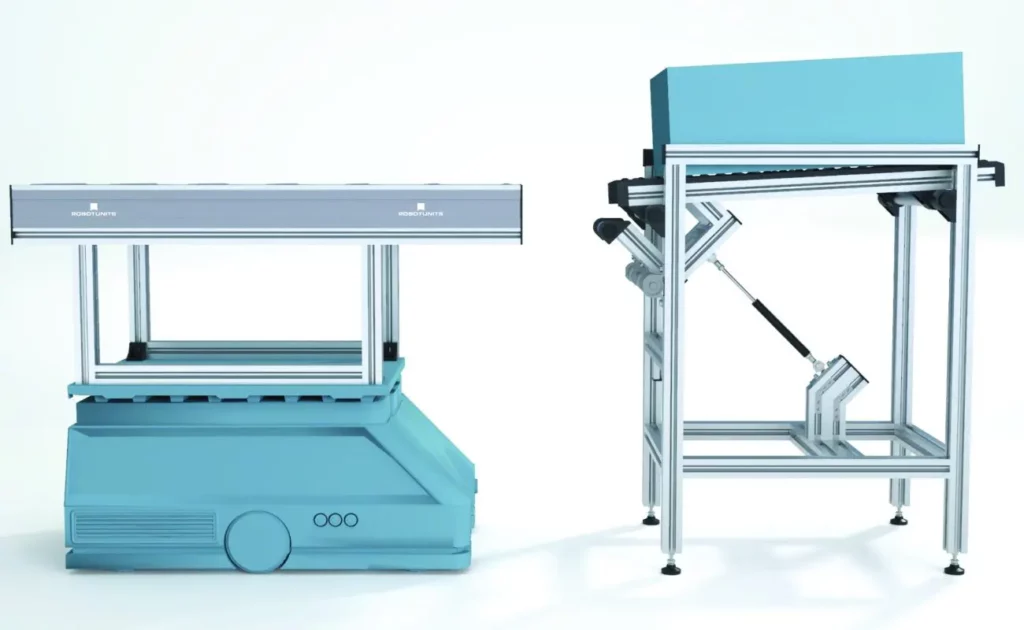 The Robotunits Pick-up Station for AGVs enables a custom-made handover of small load carriers or cardboard boxes: thanks to the release/folding function using a gas spring, automatically without an additional motor or sensor
Customized Transport Solutions
Application possibilities for Robotunits Top Modules are as diverse as the needs of our customers. The modular concept allows them to easily configure and attach the modules to the AGV.

With the play-free Fastening Technology of Robotunits, strength comparable to a welded connection, is guaranteed. Customized cost-effective solutions can be implemented thanks to your choice of conveyor type, dimensions and drive type.
New work areas are easily, quickly and flexibly connected to the existing AGV using the individually configurable structures of Robotunits. In the same way, the AGV Top Modules can be connected to the rigid, high-performance Robotunits conveyor Technology or integrated into existing systems, such as from Servus .