Counteracting resource shortages
The Modular Automation System from Robotunits helps to counteract resource shortages and delivery difficulties. Why? Because with a minimum of components you have a maximum of possibilities and remain capable of delivery thanks to the more-with-less principle.
In our modular system based on the LEAN principle, the number of individual parts is deliberately kept small, whereas the sum of application possibilities is very large. Staying true to this more-with-less principle can only be achieved through focused research and development of multifunctional and universally applicable components. The result of our efforts? A constantly improving Robotunits Modular Automation System.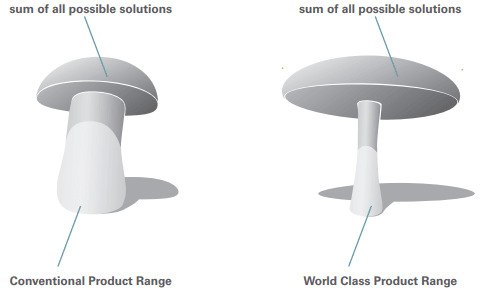 Achieve more with less effort
Implementation and logistics are considerably simplified, buying from regional suppliers is made possible and resource consumption is reduced. The result is an improvement in delivery capability and cost savings. All this is achieved with a multifunctional Modular Automation System that is at its best in times of supply bottlenecks and resource shortages.
Best quality made available
Currently, what makes a company successful is its ability to deliver. All processes are characterized by a just-in-time philosophy. The more-with-less principle supports our customers in making even the ordering process as simple, fast, flexible and reliable as possible on the basis of a manageable product range. The benefits of this: you can increase productivity, save costs and maximize profits.


Counteract resource shortages and supply bottlenecks with the world's simplest, fastest and most flexible Modular Automation System:
few components offering a multitude of possibilities
highest quality and uncompromising service
complex requirements solved on a customized basis following the LEAN principle